Ceramic Paint Protection.
Why You Should Ask For Ceramic Paint Protection for Your New Car.
Automotive technology has been advancing quickly. Something that is relatively new is a ceramic paint finish for your car. This is a protective layer utilising nano silica particles to create an almost invisible shield around the vehicle. There are a few reasons to ask for ceramic paint protection for new cars.
Protect the Original Paint.
One of the first reasons to ask for ceramic paint protection for new cars is that it is going to preserve the original paint from the manufacturer. The paint actually binds to the underlying material. This creates an incredibly strong seal that very few things can get through without actually damaging the body of the car. This includes the elements and even the sun to a certain degree. The added protection will also keep the original paint looking bright and colourful for a long time, additionally, it reduces that chance of damage from road debris or salt.
Reduce Problems with Dirt and Water.
The ceramic paint protection for new cars creates a very tight seal around the body of the vehicle. This is actually so non-porous that water has no place to go, so any water that hits the paint is just going to sit on the surface and eventually roll away. This is incredibly beneficial because the water will not slowly damage or eat into the body. An added bonus is that the water is going to drag away dirt and dust as it rolls off the car. The result is that you will have fewer problems with dirt and water so maintain a cleaner car for longer.
Maintain a High Gloss Shine.
Many things can take away the high gloss shine of a new car. Some cars will start to look more matte after just a few months or a year. If you ask for a ceramic paint protection, then you are going to be able to maintain that high gloss shine. The ceramic coating will repel nearly all of the elements that could wear down the gloss finish.
Service.
So here at Reflective Desire, Alex can offer this ceramic paint sealant/coating to protect your beautiful and scratch free paintwork with far superior products and care and attention to detail, at a price which is up to 40% cheaper than a main dealer would charge.
Ideally suited to cars which are new/nearly new, or for best results, cars which have had their paintwork corrected to remove swirls and defects, an application of a ceramic paint sealant/coating will lock in that shine and prevent future scratches from forming.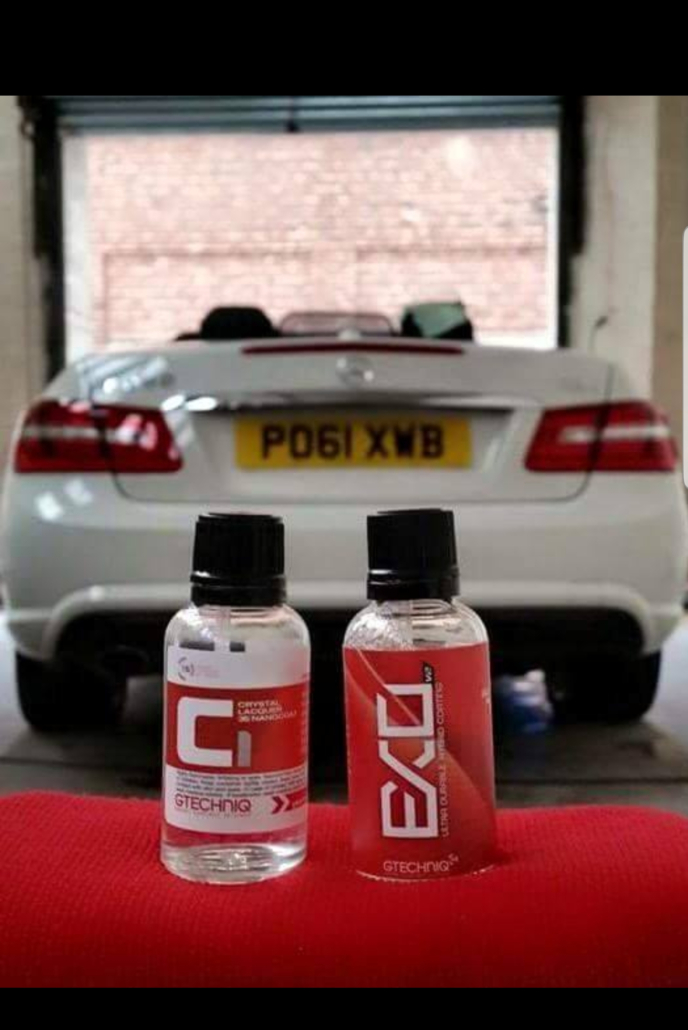 Ceramic paint sealant.
Up to 2 years protection.
Time: approx 8 hours plus overnight indoors| Cost: from £250.
Lower car, bumpers and arches degreased and power rinsed
Wheel fronts and inners cleaned using a pH neutral/acid free cleaner
Snow foam applied to exterior paint to gently lift dirt
Power rinse
Creases, badges, trim and vents cleaned with soft brushes
Door, boot and bonnet shuts degreased
Wheel arches thoroughly cleaned
Paint hand washed using the two bucket method and a quality lambswool wash mitt
Tar removed from lower panels
Power rinse
Exterior dried using microfibre towels and a warm air blower
Paintwork & glass clayed to remove bonded contamination
Pre-wax cleaner is applied to key the surface for the nano sealant
Exterior trim dressed
Wheel arches dressed
Tyres dressed
Glass and mirrors cleaned, polished & then sealed with an effective rain repellent
Exhaust tailpipes polished (if necessary).
Alloy wheels sealed with Wheel Wax
Ceramic coating applied in 2 layers over a curing time period
A water tap and electricity supply will need to be available at clients home or their workplace.